DOMASELO
Regular price
Sale price
$5.95
Unit price
per
Sale
Sold out
Share
View full details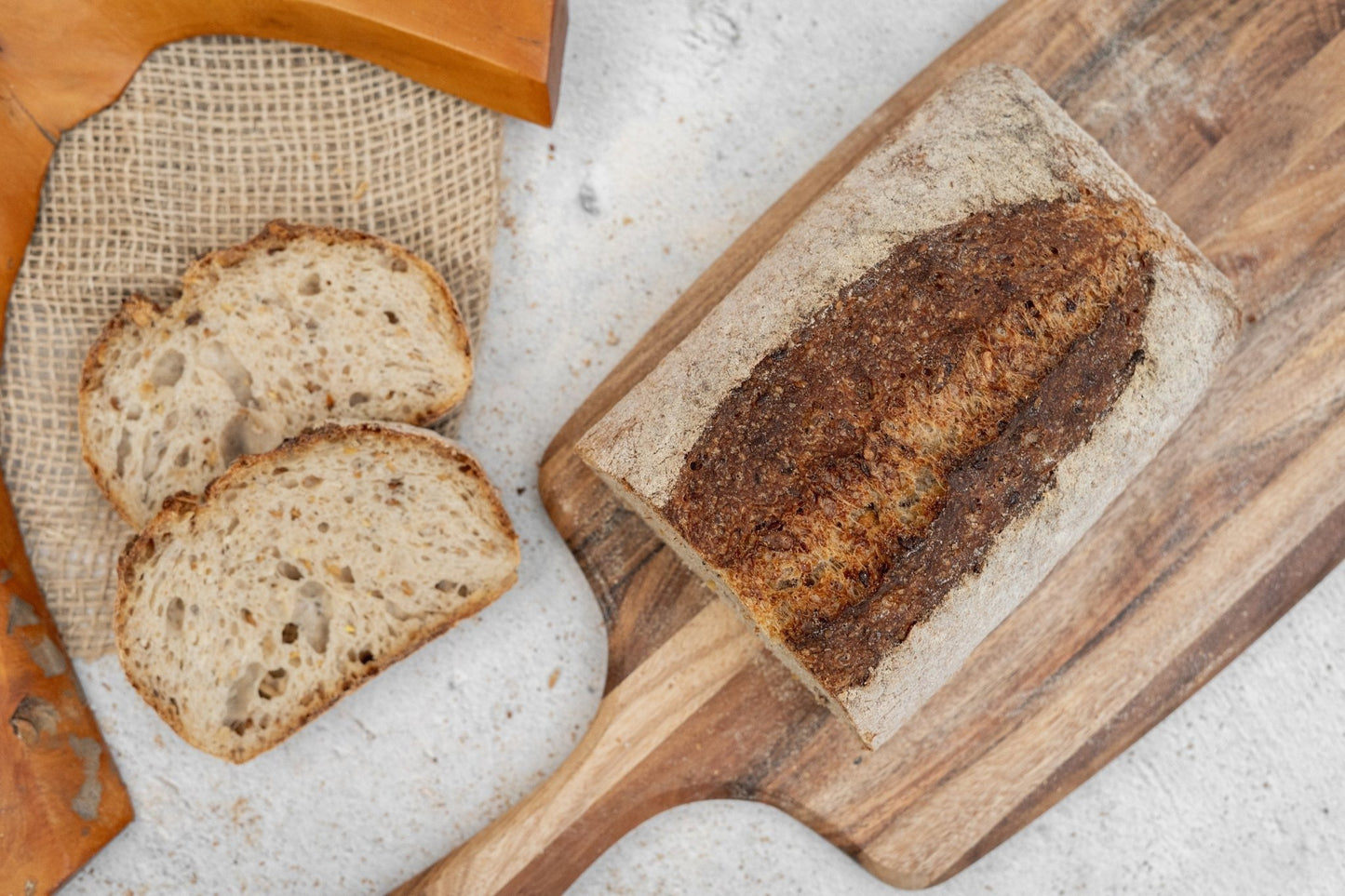 Multi-Seed Bread | Sandwich Style | Sourdough
Highlights

Our Multi-Seed Bread is a sourdough loaf made with organic flour that provide a rich flavor from the seeds (sesame, flax, and sunflower). A loaf that is perfect with both sweet and salty foods.

Size: 8" long and approx. 18 oz (weight may vary as each loaf is handcrafted).


Ingredients

Ingredients: flour, levain (flour, water), water, salt, sesame seeds, flax seeds, and sunflower seeds.

Special Note

We don't recommend slicing this bread as it reduces its shelf life, and each slice will get dry quicker. It is best when sliced as needed, it will taste better and last longer.
How to Store

We recommend keeping your bread uncovered on your counter rather than in the fridge or a plastic bag. We place our loaves cut side down, so that the crumb isn't exposed to air, while the crust slowly stales.* In a sealed plastic bag, the crust will soften, as the moisture from the bread has nowhere to go, eventually leading to a moldy loaf.

If you don't expect to finish your loaf before it stales, freeze it in a plastic bag. Slice it first, to make toasting ever more convenient.

Revive your stale loaf in the oven at 175°F for 15-20 minutes.

*Technical note: Staling has nothing to due with water loss, as bread actually only loses about 1% of water content as it ages. Rather, the gelatinized starch molecules form into crystalline regions, causing a tightening effect on the bread. By reheating it, you can temporarily disrupt the less stable regions of the chains comprising the starch molecules.
Delicious
Delicious, sour, soft, crunchy, seedy.
Multiseed
We love you very Nread comes out of your Bakery! Very good Quality and all the Ingredients we love very much! Thank you
Multi-Seed Bread
A very good Multi-Seed bread, Makes Great Toast.
Best multi sourdough I have eating!
Love this bread
I've tried almost all and each one is better than the one before. My husband and I absolutely love the spread and love how incredibly healthy it is. Every time we give someone a slice to try they fall in love and we end up giving them a loaf.